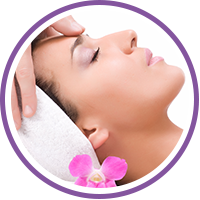 Kobido facial massage
The natural face-lifting without Botox!
Kobido is a relaxing japanese facial massage preventing and reducing the impact of the aging process. It visibly improve the appearance of the skin, reduces and prevents wrinkles, provides brightness as well as a more uniform tone and removes eye bags.
It is performed by stimulating the face with a great combination of energizing, delicate and sensitive techniques, applied in a subtle, quick and rhythmic way, induces a great relaxation effect, relaxing facial and neck muscles, releasing the tension areas that cause wrinkles, and brings vitality back.
Kobido is combined with lymphatic draining to get rid of toxins, facial reflexology and Shiatsu pressure points, a japanese therapy that helps restore and balance the body's energy.
According to the philosophy of Kobido, in line with the Eastern traditions, beauty is the result of a perfect balance between physical, emotional and spiritual health. Kobido's old and refined techniques seek to maintain and restore harmony in these three branches.
After a Kobido session you will feel rested, relaxed, with a peaceful and clear mind, just as after a deep and restful sleep. Therefore Kobido is considered a very effective technique to reduce stress.
After the first session of this "non-surgical face lifting", you will already notice results which increase in the medium and long-term if practiced regularly. Looking few years younger is not the unique benefit that Kobido facial massage can provide, these are further benefits:
Provides a complete relaxation and wellness
Stimulates collagen production (increases elasticity)
Rejuvenates facial tissue and increases general appearance of the skin
Gradually reduce & prevent wrinkles, sagging and skin blemishes
Stimulate cell metabolism, causing the skin to renew faster
Remove toxins, impurities and dead skin cells, preventing aging of tissues
Improve blood circulation & lymph flow, bringing more nutrients to the skin
Release blocked tension and relaxes face and neck muscles
Relieves stress, headaches & jaw pain (bruxism & facial rigidity)
So yes, a younger face is possible without surgery!
For significant esthetic results, it is recommended to start with a treatment of 5 sessions, depending on the condition of your skin and individual needs. After that you can repeat the maintenance treatments once every 15 days or once a month depending on the needs of each person.
KOBIDO massage is not recommended if you have had recent aesthetic medicine treatments (thread lift, Botox, facial fillers, micro needling, acid peels, laser treatment…) or suffer from acne or epilepsy.